Award of Honour Salvà i Campillo
Award of Honour Salvà i Campillo
March 1, 2010.

The "Salvà i Campillo" Awards offer its honour award to Mr. Josep Clotet.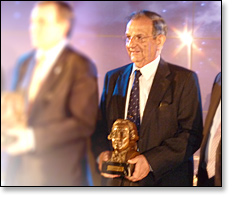 Mr. Josep Clotet, at 72 years old, confessed last night to be "shaking like a leaf". He was one of the men of the Fifteenth Telecommunications Night, organized by the Col·legi de Telecomunicacions de Catalunya and the Associació Catalana d'Enginyers de Telecomunicacions. Over 400 people attended the event. Mr. Josep Clotet was honoured with the award of honour in recognition of his career. He was 24 years old when he founded his company, PROMAX, that manufactures precision electronic instrumentation and has a turnover of 20 million of euros.
Josep Clotet recalled yesterday that his company, now run by his son, sells "in more than one hundred countries across five continents". And he also stated that "perhaps" the television digitalisation is the greatest revolution that this sector has lived, which has made technological advances to change with new realities.
JThe entire evening was devoted to the evolution of the television and one of the greatest events of this year, the Analogue Switch-off, when the majority of Spanish viewers will have to get used to the encoders of the Digital Terrestrial Television (DTT). The complete transition is scheduled for April.